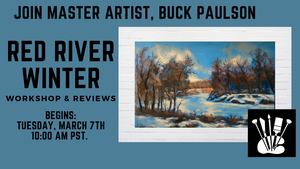 Red River Winter Workshop & Reviews by Master Artist, Buck Paulson
Join us for a Workshop with Master Artist, Buck Paulson
Session 1: Tuesday, March 7th at 10:00 am pst- Part 1
Session 2: Tuesday, March 14th at 10:00 am pst- Reviews of Part 1
Session 3: Tuesday, March 21st  at 10:00 am pst- Part 2
Session 4: Tuesday, March 28th at 10:00 am pst- Reviews of Part 2
Session 5: Tuesday, April 4th  at 10:00 am pst- Part 3
Session 6: Tuesday, April 11th  at 10:00 am pst- Final Reviews
Get ready to take your painting skills up a notch!
Put on that artist's hat and join us for the Red River Winter Workshop with Master Artist, Buck Paulson, who will guide you along every step of the way.
You'll get reviewed after each stage - how great is that?
Plus the videos are recorded and emailed after each session– so If you are unable to attend live you can still participate.
This is an amazing learning opportunity!