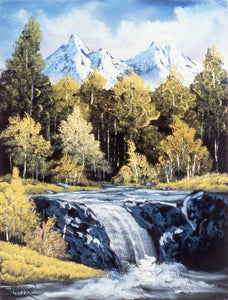 Mountain Waterfall
Diane paints a beautiful river waterfall surrounded with summer foliage and a distant mountain range.
A part of "The Keys To The Alexander Technique Series featuring Diane Andre'. Join Diane Andre' as she gracefully demonstrates the magical keys to the Alexander technique. Diane spent years working directly with Bill Alexander and truly is a master teacher. A "must have" for anyone wanting to gain a true understanding of Bill's wet-on-wet technique of oil painting. Order now and let the skills you will learn from Diane work for you.
Running time approximately one hour.