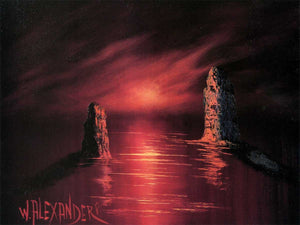 Haystack Rock
This quiet serene seascape with the sun falling below the horizon by Bill features Haystack Rock near Cannon Beach in Oregon. It is still bright enough to highlight two lonely stone guardians standing watch over the shore. You'll use Magic Clear™medium (instead of Magic White™) over a black canvas for this painting. The following materials are required for this painting:
Paints and Mediums:
Alexander Magic Clear™ Medium
Titanium White
Indian Yellow
Permanent Red
Alizarin Crimson
Ivory Black
Tools:
2 1/2" Blending brush
1" Foliage Brush
Script Liner Brush
Bill's Original Palette Knife
Alexander Magic Clear™ Medium
18" X 24" Canvas
.
DN-028