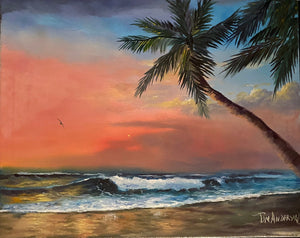 Hawaii Workshop and Reviews with Alexander Master Artist Tom Anderson
Join us for a Workshop with Alexander Master Artist, Tom Anderson.
When: 
Part 1: Tuesday, March 22, 2022 at 1:30 pm pdt
Part 2: Tuesday, March 29, 2022 at 1:30 pn pdt
Review: Tuesday, April 12, 2022 at 1:30 pm pdt
Review: Tuesday, April 19, 2022 at 1:30 pm pdt
We will meet on Zoom and watch Tom paint a portion of his painting for the first two  weeks.
Once the class is over, students will receive a link to the video to paint along.  Each week you will paint just as far as Tom does.  There is some drying time in between classes that will make it easier to add more layers. Tom will review students' version of his painting, "Hawaii."  Each student will have a chance to ask questions while Tom reviews their painting.  Everyone in the class gets to watch the reviews.  This is a powerful learning opportunity even for everyone. 
We hope you will join us.
If you have more question, please give us a call at 360-686-1102