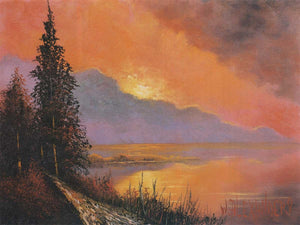 Evening at Eagle Lake
Bill Alexander's "Evening at Eagle Lake"
Seventeen years into his television program, Bill was called back from retirement. Bill loved being in front of the camera teaching his wonderful viewers and students. Bill paints a happy sunset inspired by one he saw the evening before he filmed the show. Now he wants to show you how easy it is to create this wonderful sunset.
This painting is terrific for learning how to create mood in a painting. Also notice how Bill uses light to create a vibrant, exciting painting.
Running Time:  About 27 minutes
DO-162