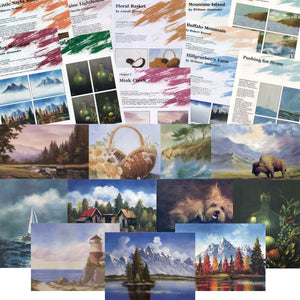 Alexander Deluxe Art Instruction Collection
$12900

$129.00

Save $1,438
---
---
Learn to paint landscapes, seascapes, florals, still life and portraits from several different artists including Bill Alexander, Robert Warren, Buck Paulson, Lowell Speers and others.
317 different painting projects to choose from on a five (5) disc set. (These are not videos - they are digitized written instructional files. This set contains over 2000 full-color pages.
Every artist's dream, you don't want to miss this massive collection from Alexander Art.
Don't know what to paint?

Want to learn new techniques?

Can't quite see the details in your instructional books? No problem, just enlarge the image to see even the tiniest brush stroke.

Have you struggled with adapting your pattern to fit your canvas? No problem, just resize the image and print!

Having difficulty mixing a certain color? Just use one of the 317 projects as a reference. Each project has a high-quality image of the finished painting.

The Alexander Collection is just for you. Digitally mastered, each project comes with full-color written, step-by-step instructions.
(These written instructions are designed to accompany most of our DVDs.)
DE-900,
FREE Shipping USA only. 
No other discount apply.