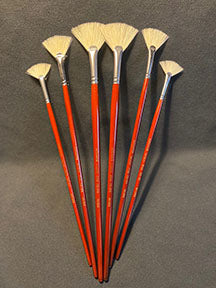 Alexander Fan Brush- 6 Set Special
Have you ever wished you had more brushes just so you wouldn't have to clean your brush so often?  Bill used to encourage everyone to have two of each brush so you could keep one for the lights and one for the darks.  What are the advantages of that?
More painting time and less brush cleaning time.
Save money on paint.  The last thing you want to do when you've finally mixed the right color is to wipe it out of your brush just so you can use it for something else.
The Fan Brush is one of the most versatile brushes there is.  Certainly a favorite of our Master Artists!  If it isn't one of your favorites it will be soon.  Different size canvases and different size objects require different size brushes. That is why we have three sizes!   Today only!  Get 2 of each size (one for lights and one for darks) for only $43.00 Now that is a great deal!
(No other discounts can be applied.)